Employee engagement, satisfaction, and organizational climate assessment
Employees' perceptions of how your organization treats them can have a positive impact on their actions, but on the other hand (when not done properly) it could also be a huge threat to your organization.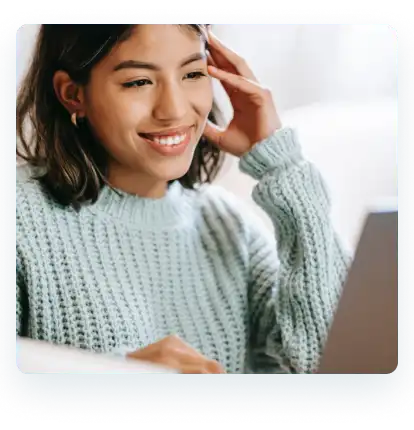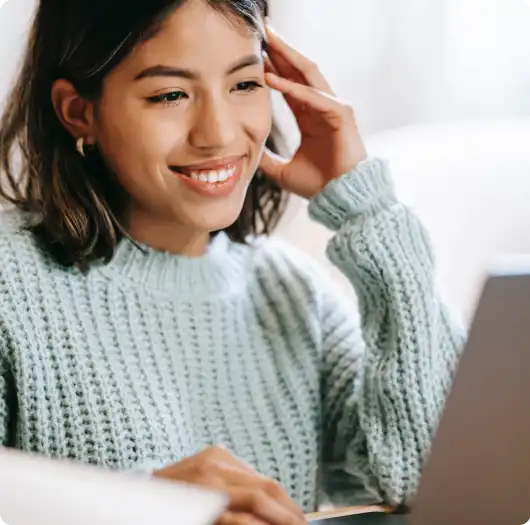 Increase employee engagement by accurately analysing your internal environment
A thorough understanding of the company's circumstances
Before you can improve employee engagement, it's important to understand which elements of your internal environment are holding it back.
More committed employees
Highly committed employees are the best ambassadors of your company and your brand (identity). Your colleagues can tell you exactly what works and what doesn't work in your company.
Enhance the process of human capital management
The SiOK climate assessment results are extremely valuable in developing appropriate and effective measures to increase employee engagement. A thorough examination of the internal environment across twelve climate dimensions that have a significant impact on the employee experience.
Organizational climate comparisons by organizational unit.
Detailed Employee engagement reports, including the calculations of different shares.
An analytical report demonstrating trends for each of the measured categories.
Comparison of general internal environmental indices with the Slovenian average.
A detailed employee satisfaction report.
Developing a communication strategy for your employees.
A web-based survey solution.
The ability to measure additional elements according to your requirements.
There is the option of combining online and guided (offline – in person) surveys.
A systematic report on the organizational climate, employee satisfaction, and employee engagement.
Presentation of the results to the management (board).
Technical and professional support all the time during the research.
Comparison with the current Slovenian average.

The SiOK project measures organizational climate and employee satisfaction using a standard questionnaire, which is the result of several years of work and joint efforts by Slovenian companies and organizations.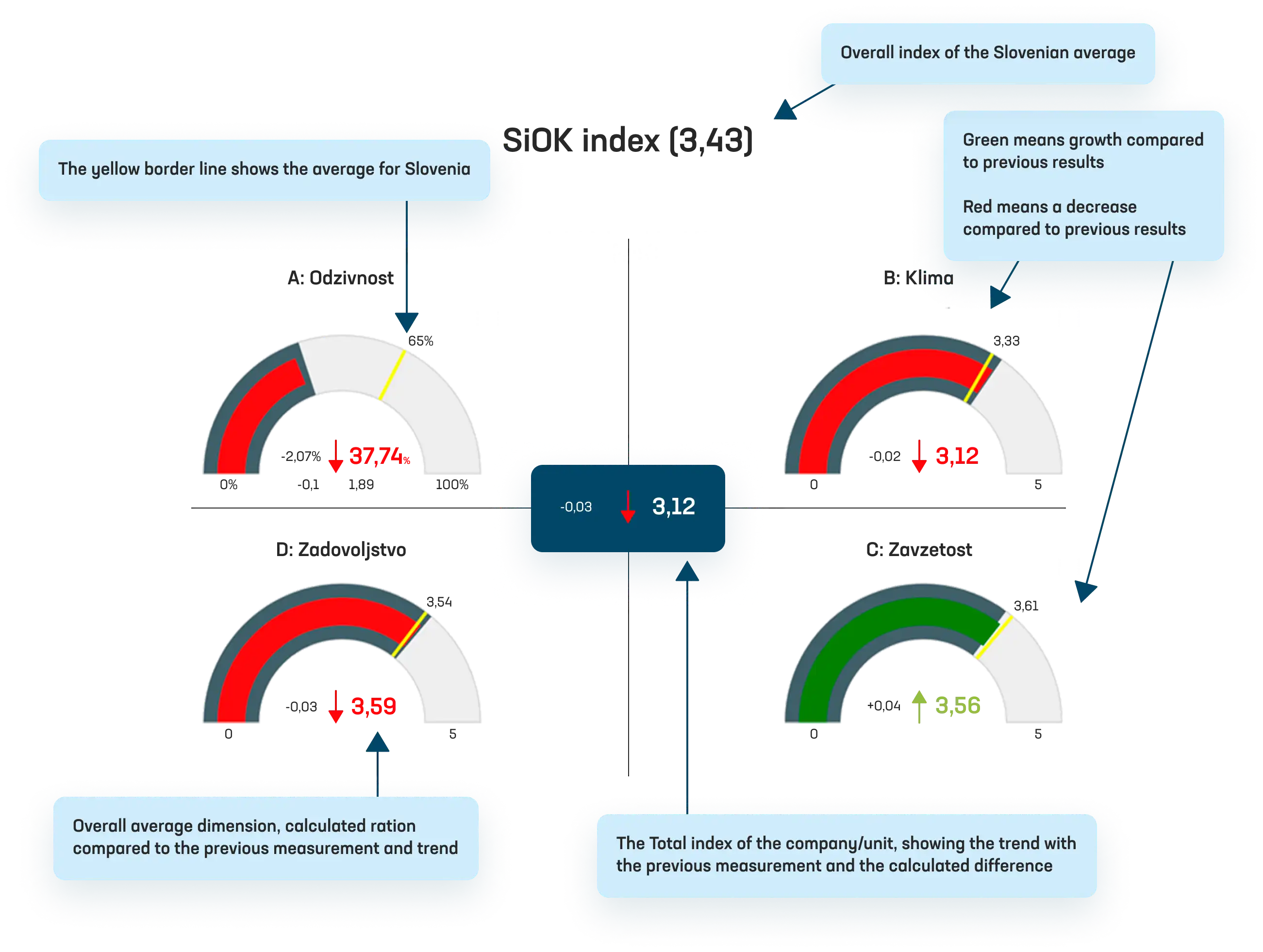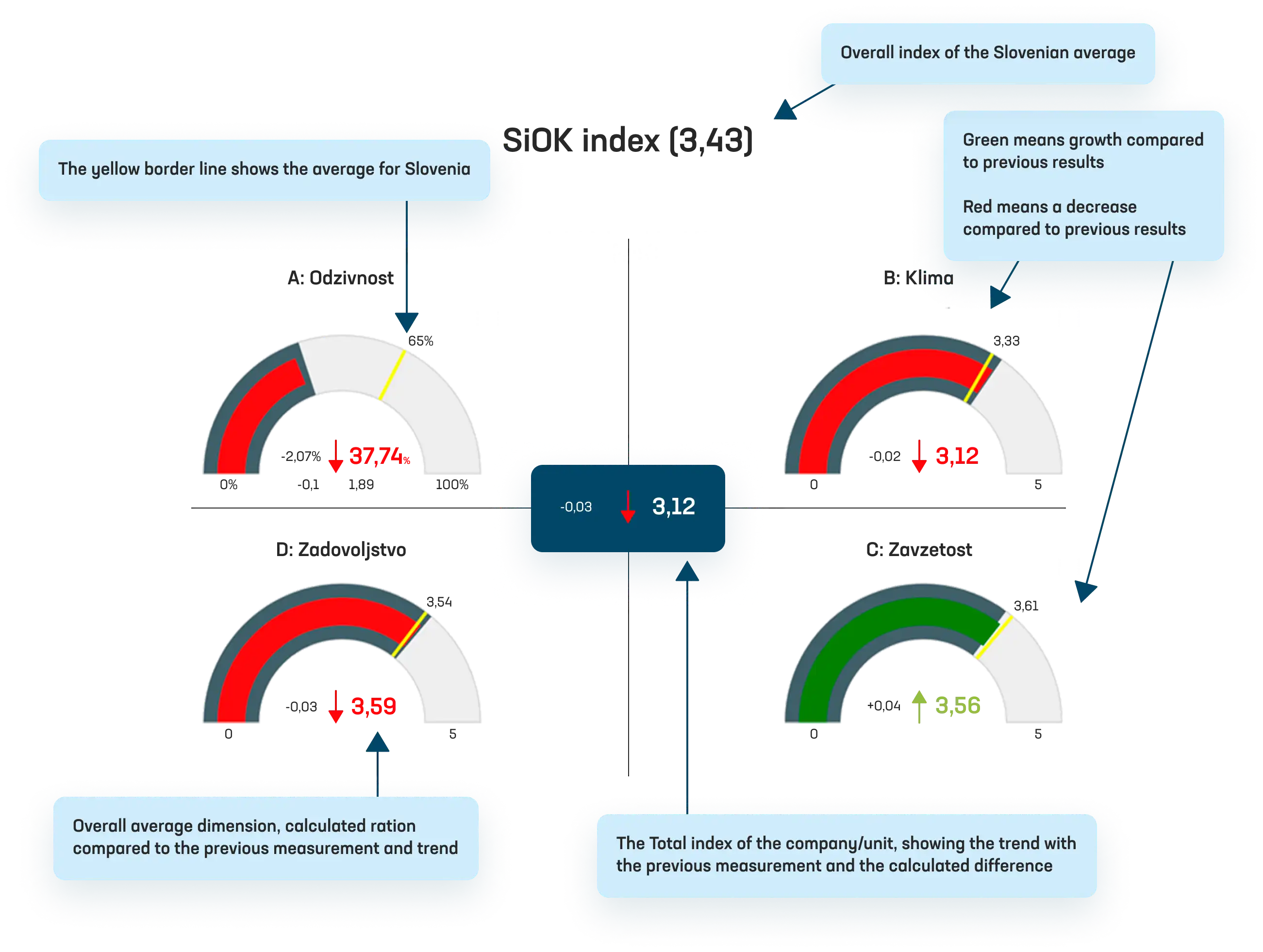 The SiOK includes 12 climate categories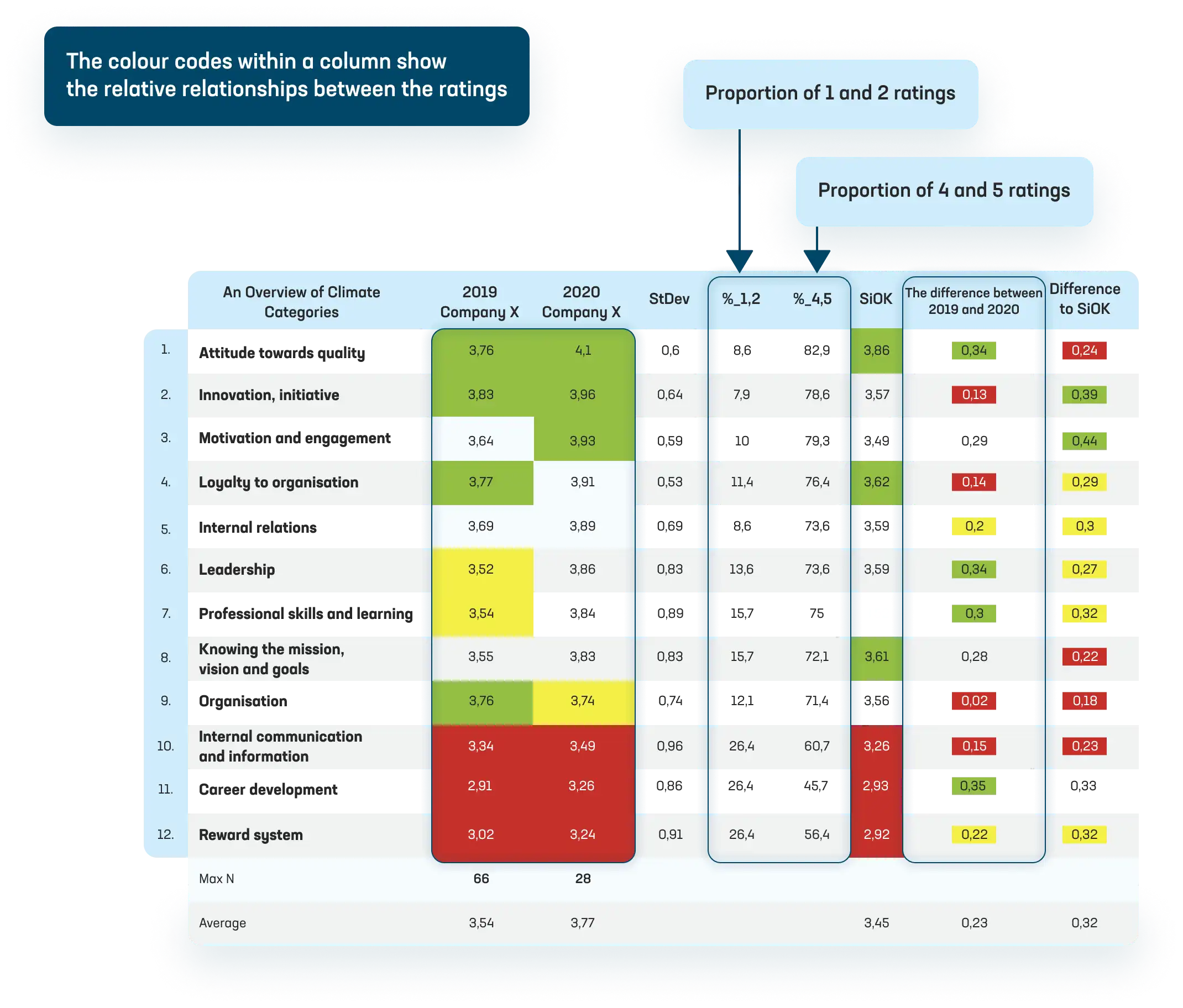 * All presented data is symbolic. Improved employee experience results in increased engagement.
How to build employee experience?
Inspire your employees by communicating your mission and vision.
Constantly improve your leadership capabilities.
Develop effective communication skills and best practices.
Promote a culture of feedback.
Provide a wide variety of remuneration approaches.
Develop unique and flexible work environments.
Provide excellent career development opportunities for your employees.
Maintain your employees' well-being.
What are the benefits of having a highly engaged workforce?

What are the benefits of having a highly engaged workforce?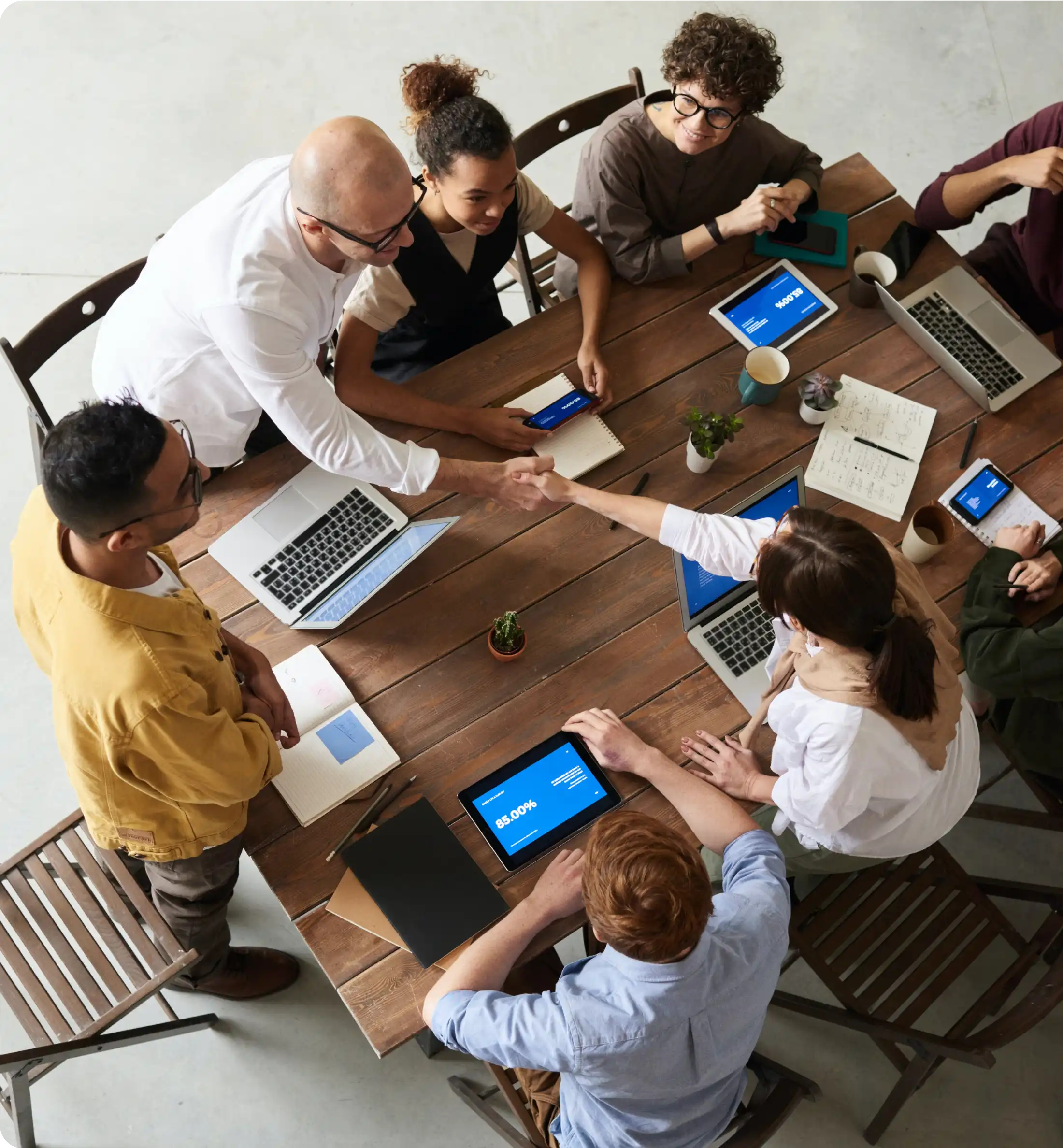 Engaged employees are your best salespeople.
Customer satisfaction and a positive customer experience begin with engaged and satisfied staff. The more satisfied they are with their interactions with the organization, the more energy and enthusiasm they will transfer to your customers, which will consequently increase customers and stakeholders experience and satisfaction. Additionally, better relationships between personnel and customers will be fostered.

If you want to make higher sales turnover and build better relationships with your customers, you should invest in employee engagement programs.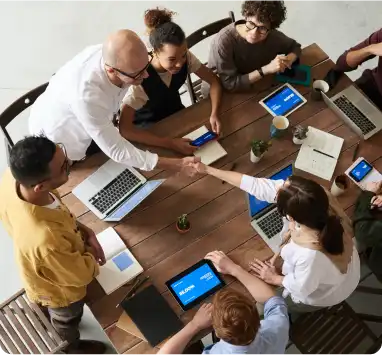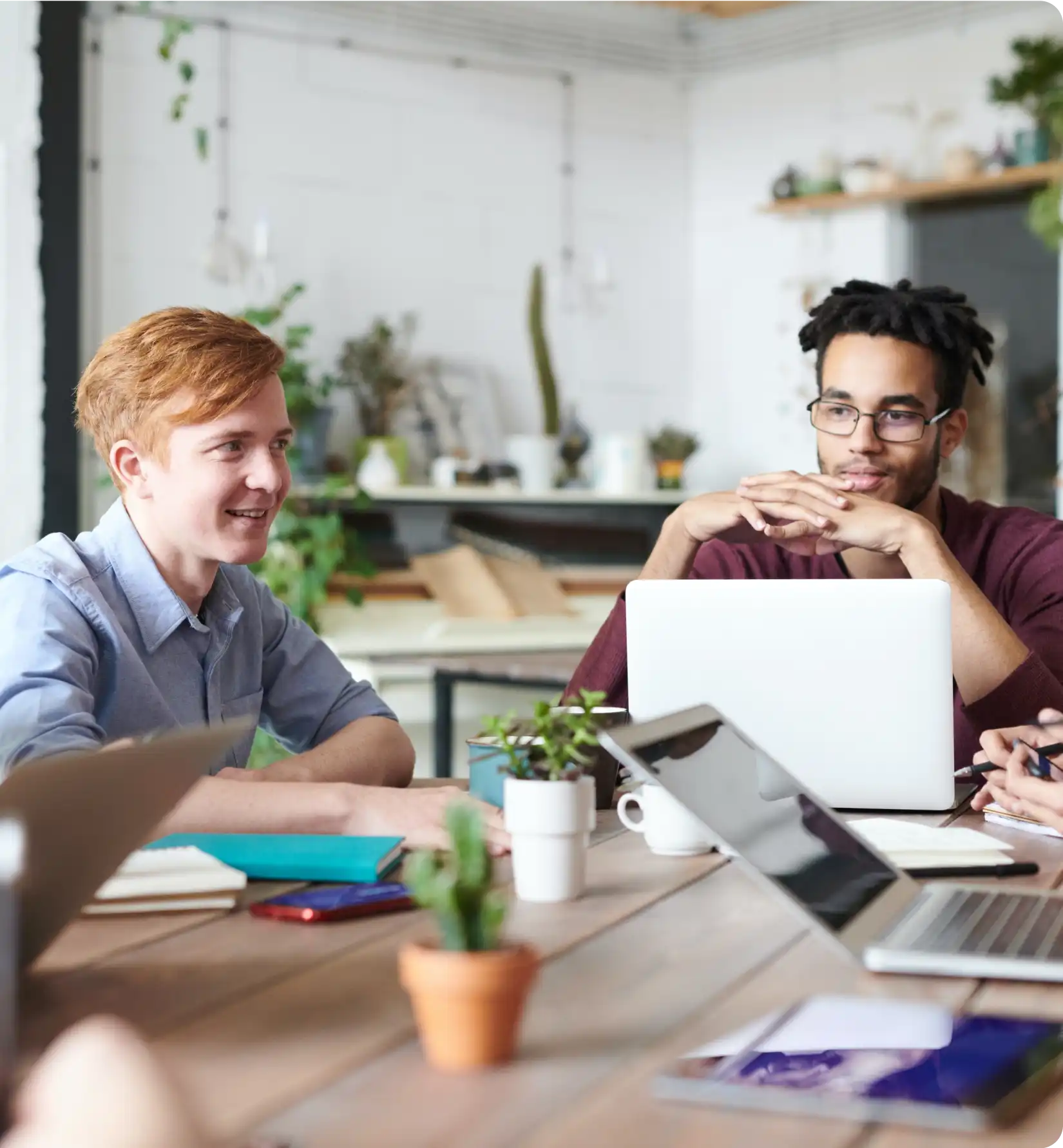 Employees are the best ambassadors of your brand.
Employees who are truly committed to their company can be its most natural and powerful advocates.

They usually talk positively about the company, promoting the best employer brand. As a result, the company gets the best people, the cost of the recruitment process is reduced, and the turnover rate is also reduced.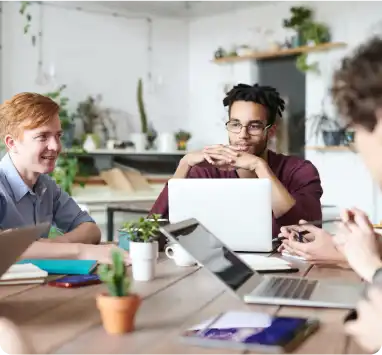 Do you want us to provide you with more detailed information?